Property Inspection: An Appraiser's Guide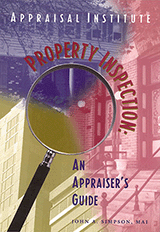 Published

1997

Author

John A. Simpson, MAI

ISBN

0-922154-36-8

Page count

98
View Table of Contents
Although much of an appraiser's work is done at the office, the public and many appraisal clients are concerned with what goes on at the property site. In short, property inspection is the most visible, and sometimes the most neglected, part of the appraiser's job. Despite the importance of property inspection, few appraisers receive formal training in this task. Instead they depend on example and experience to learn the necessary skills. Property Inspection: An Appraiser's Guide addresses this problem by providing an overview of basic property inspection knowledge and techniques. The author focuses on aspects of property inspection for which appraisers are directly responsible and suggests methods for ensuring competent inspection practices.
The text also outlines how appraisal offices can develop customized inspection forms and set up property inspection programs that provide the tools and support appraisers need to do the job right. Property Inspection covers all aspects of site and home inspection and provides insight into the special challenges encountered in the inspection of commercial properties. The appraiser's responsibility to identify property defects, assess potential hazards, and verify data sources is emphasized. Good property inspection skills are vital to the appraisal process and to your continued professional success. Order your copy of Property Inspection: An Appraiser's Guide today.
Note: This book is only available in print format.