Appraising Partial Interests - PDF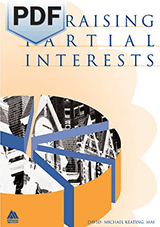 Author

David M. Keating, MAI, Non-Practicing

ISBN

0-922154-49-X

Page count

0
Winner of the George L. Schmutz Award
Download Table of Contents
Appraisers are busy professionals seeking answers to complex valuation questions. To complete appraisal assignments involving partial interests, they need a basic understanding of the legal and economic principles of property rights and step-by-step valuation methodologies that work. Appraising Partial Interests is the practical resource that appraisers have been waiting for.
Chapters 1 through 4 explore economic divisions of property, including leased fee, leasehold, sandwich (sublease), and mortgage interests. Chapters 5 through 8 examine legal divisions of property rights such as life estates, conservation easements, transferable development rights, and fractional interests. The final chapter focuses on physical divisions of property, specifically subdivision and air rights.
This book makes an ideal reference text. After each narrative section, real-world valuation problems are presented and specific solutions are demonstrated. Appraisers will find themselves reaching for Appraising Partial Interests again and again to learn about the fine points of real property rights and suggest practical methods for their valuation.
Note: This book is only available in PDF format.