Convenience Stores and Retail Fuel Properties: Essential Appraisal Issues, Second Edition - PDF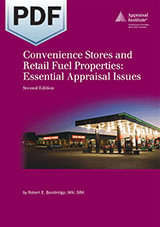 Published

2012

Author

Robert E. Bainbridge, MAI, SRA

ISBN

978-1-935328-23-0

Page count

316
Winner of the George L. Schmutz Award
View Table of Contents
The convenience industry is a complex and fascinating retail channel that has responded to recent economic challenges by embracing new ideas. The second edition of Convenience Stores and Retail Fuel Properties: Essential Appraisal Issues will help appraisers of convenience stores keep up with these changes and understand how to value convenience properties. This second edition demonstrates market analysis using statistical data and information on important recent developments in the convenience industry, such as:
Reduced fuel profits
Competition from hypermarkets
Increased focus on food service
Added chapters discuss:
Fundamentals of economic theory as applied to convenience retail real estate
Eminent domain issues
Highest and best use essentials for convenience store sites
As an added bonus, the book presents a prototype of a working commercial property automated valuation model. Links to helpful online digital content, including interviews with experts and practical field examples, are also provided to illustrate the concepts discussed.
Additional Resources referenced in the book can be found at this link:
https://tinyurl.com/ConvenienceStoresAI
"I'd recommend this comprehensive book to anyone who wants to gain a better understanding of a convenience store/retail fuel property from site planning to store operations."
John A. Schwartz, MAI