Effective Report Writing: A Guide for Appraisers and Reviewers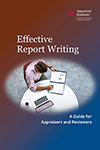 Published

2023

Author

Appraisal Institute

ISBN

9781935328902

Page count

74
Writing an appraisal report is writing for a deadline. The clock is ticking for both the appraiser and the client. The appraiser wants to complete the appraisal assignment efficiently and communicate the value conclusion to the client as soon as possible. The client, in turn, wants to receive a report that is timely, readable, and credible and one that provides the information needed to answer the client's question about property value.
Both parties feel the pressure, but it is the report writer who bears the responsibility for clear communication. Effective Report Writing: A Guide for Appraisers and Reviewers will help practitioners fulfill that responsibility by carefully considering the purpose and execution of the reporting task and by applying the techniques of professional writers to the report-writing process.
Readers of this handbook will learn about
Good grammar, usage, syntax, spelling, structure, and tone
The components of persuasive writing
Common appraisal report-writing pitfalls
Working with text, numbers, and images
The effective use of technical language in reports
Quality control and the delivery of the final report
Writing review reports
Whether you are new to the task or an old hand at writing appraisal reports, you will benefit from the tips and techniques presented in
Effective Report Writing
. Sharpen your writing skills and your readers (and clients) will thank you.