Golf Property Analysis and Valuation, Second Edition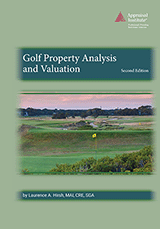 Published

2023

Author

Laurence A. Hirsh, MAI

ISBN

9781935328896

Page count

194
The golf industry has undergone dramatic change in recent years, and the market for golf properties has developed and evolved. To value golf course and club properties, appraisers must understand their unique combinations of land and improvements as well as real estate and business. Golf Property Analysis and Valuation, second edition, provides appraisers with an updated guide to the proper techniques, methods, and resources for accurately estimating the value of golf courses. This book can also inform related professionals—including attorneys, lenders, tax assessors, golf course developers and managers, and market participants—about the factors that impact golf course and club economics.
Topics examined in this text include market analysis, subject property analysis, highest and best use, application of the approaches to value, and the allocation of real and personal property.
Considering the sizeable economic impact of the golf industry in the US, understanding the economics of golf courses and clubs makes good sense.
Golf Property Analysis and Valuation
, second edition, will help appraisers and others understand and properly analyze these unique properties.