Practice Examination Questions for Real Estate Appraisers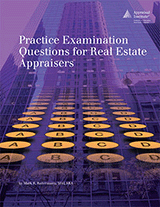 Published

2017

Author

Mark R. Ratterman, MAI, SRA

ISBN

978-1-935328-37-7

Page count

386
View Table of Contents
Are You Ready for Your Appraisal Exam?
This test prep guide provides the instruction and practice problems you need to pass your state licensing or certification examination. This book has been organized to correspond to the 2015 National Uniform Licensing and Certification Examinations Content Outline. Using the 1,000+ real-world questions and answers provided, you can:
Educate yourself on the concepts likely to be covered on the exam
Understand the logic behind the testing and scoring processes
Get study and test-taking tips to improve your chances of passing
Prepare to meet and beat this career-making challenge
Answers to the practice questions and detailed discussions of the solutions are included. The focus of this book spans both residential and nonresidential topics, with an emphasis on appraisal basics.
Read valuable tips on Preparing for the Appraisal Exam and get a sneak preview of the book!
"This is the only book I know of specifically designed for those studying for state exams. It is a perfect 'drill book' and a great service to appraisers. I can honestly say that I don't know how I would have passed the test without working the problems in Practice Examination Questions for Real Estate Appraisers."
Aaron Mundie, Candidate for Designation
Note: This book is only available in print format.