The Appraisal of Senior Housing, Nursing Home, and Hospital Properties - PDF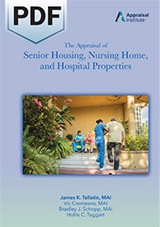 Published

2023

Authors

James K. Tellatin, MAI

Victor D. Cremeens, MAI

Bradley J. Schopp, MAI

Hollis Crosby Taggart, Jr.

ISBN

9781935328926

Page count

442
This comprehensive text explores senior housing, nursing home, and hospital properties from physical and economic perspectives, providing appraisers with an up-to-date set of tools for determining the productivity, marketability, feasibility, and value of these facilities. Readers will become familiarized with the forces affecting earnings and valuation and will gain knowledge of the techniques needed to assist in the acquisition, lending, investing, developing, and assessment of these properties. Because of the broad scope of topics covered, many nonappraisers—including lenders, equity investors, operators, developers, industry analysts, assessors, and attorneys—will find this book useful.
All three traditional approaches to value are closely examined in this book, and Medicare and Medicaid are also discussed in detail. The main focus of the book is the valuation of the going concern assuming a fee simple interest in the real property. In addition, techniques for the allocation of the value of the real property, personal property, and intangible property are covered along with specialized topics such as leased fee and leasehold interests and life plan communities.
The health care industry is one of the most competitive sectors of the US economy. The Appraisal of Senior Housing, Nursing Home, and Hospital Properties gives appraisers the tools needed to value these complex properties.