The Dictionary of Real Estate Appraisal, 7th Edition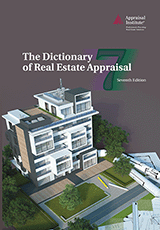 Published

2022

Author

Appraisal Institute

ISBN

9781935328858

Page count

394
The Dictionary of Real Estate Appraisal,
seventh edition, is a landmark text that reflects the depth and breadth of appraisal knowledge. Each entry, definition, and reference has been painstakingly researched and designed to express an expert understanding of issues that currently impact the profession. This understanding of appraisal is influenced by our history, evolving professional standards, emerging scholarship, significant industry trends, and new legislation and judicial precedent at all levels of government. The new dictionary is the culmination of all these influences and an essential, authoritative resource for professionals.
The dictionary is divided into two sections. The first section presents an alphabetical listing of terms directly related to real estate appraisal. The Addenda section contains information—in five topical glossaries and four other compilations of useful information—that relates more directly to other professional disciplines but is used by, and is of interest to, appraisers.