The Valuation of Office Properties: A Contemporary Perspective - PDF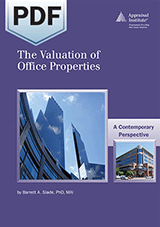 Published

2009

Author

Barrett A. Slade, PhD, MAI, Non-Practicing

ISBN

978-1-935328-04-9

Page count

163
View Table of Contents
Get The Valuation of Office Properties: A Contemporary Perspective and learn the terminology, concepts, principles, and analytical techniques needed to value complex, multitenant office buildings. The Valuation of Office Properties includes essential information on:
The history of the office building
Characteristic attributes of different types of office buildings
Site and improvement inspection and analysis
Industry measurement criteria
Through an in-depth case study and real-world examples, the author demonstrates the application of the income capitalization approach and thoroughly examines:
Office leases
The forecasting of cash flows
The estimation of rents, vacancies, and operating expenses
The sales comparison approach, the cost approach, and final reconciliation are also demonstrated. An extensive glossary and bibliography are included for further reference.