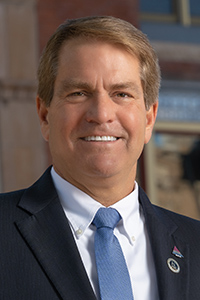 MAI, SRA, AI-GRS, AI-RRS
Craig Steinley, MAI, SRA, AI-GRS, AI-RRS, of Rapid City, South Dakota, is the 2023 president of the Appraisal Institute. He serves on AI's Executive Committee and chairs the policy-setting Board of Directors. He will serve as immediate past president in 2024. He also will serve as chair of the National Nominating Committee in 2024.
Steinley's previous national service includes six years on the Appraisal Institute Board of Directors as a representative from Region II, both as its vice chair and chair. He served on the Audit Committee, including as chair and vice chair; on the Strategic Planning Committee; on the Professional Liability Insurance Program Committee; as Region II third director; on the Governance Structure Project Team; and on the Professional Standards and Guidance Committee. He also has served as president of the Wyoming and Western South Dakota Chapter in 2012 and 2013. He participated three years in the Leadership Development and Advisory Council conference and received a 2015 Volunteer of Distinction recognition. Craig is an education developer and instructor for the Appraisal Institute and is also an AQB-Certified USPAP Instructor.
Steinley is the principal of Steinley Real Estate Appraisals and Consulting in Rapid City, South Dakota. He has also been active in the appraiser regulatory arena since the mid-1990s, including service as the 2018 president of the Association of Appraiser Regulatory Officials. He is a graduate of the South Dakota School of Mines and Technology with bachelor's degrees in both Mathematics and Computer Science, and a minor in Electrical Engineering. He also received a master's degree in Mathematics and worked as an assistant professor of Mathematics and Computer Science at SDSM&T for five years, where he instructed engineers and scientists of all ages.