Applications in Litigation Valuation: A Pragmatist's Guide - PDF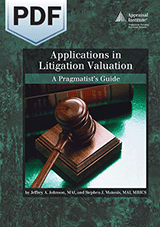 Published

2012

Authors

Jeffrey A. Johnson

Stephen J. Matonis

ISBN

978-1-935328-27-8

Page count

330
Winner of the George L. Schmutz Award
View Foreword
View Table of Contents
View Glossary
Litigation valuation is a fascinating discipline that offers a range of opportunities to qualified real property appraisers. Whether you are new to litigation valuation or have experience but want to expand your practice, Applications in Litigation Valuation: A Pragmatist's Guide is for you.
The book provides an overview of the fundamentals of litigation appraisal, beginning with a discussion of the appraiser's engagement, execution of the assignment and expert testimony. These early chapters are followed by a series of case studies based on actual appraisal litigation assignments involving:
Eminent domain and condemnation
Title issues
Environmental contamination
Taxation
Other topics
The case studies explore a broad range of valuation issues and services and provide tangible examples of appraisers at work. By describing disputes that involve real estate valuation or litigation support and demonstrating their resolution, the contributors to this guide share with you their experiences and divulge the secrets they have learned in order to thrive in the courtroom.
"Applications in Litigation Valuation: A Pragmatist's Guide is one of a kind. It's interesting and useful to see how other appraisers deal with the many problems that arise in litigation assignments, inside and outside the courtroom."
Michael S. MaRous, MAI
Note: This book is only available in PDF format.