Real Property Valuation in Condemnation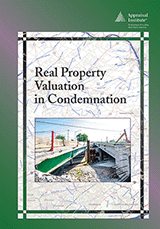 Published

2018

Author

Appraisal Institute

ISBN

9781935328742

Page count

300
View Table of Contents
In 1995 the Appraisal Institute published the landmark text, Real Estate Valuation in Litigation. Now we are pleased to announce Real Property Valuation in Condemnation, a text focused specifically on the contentious subject of condemnation.
What do appraisers need to know to value properties subject to eminent domain? Appraisers who value condemned properties are likely to find themselves in court, explaining and defending their analysis and opinions. In these high-pressure situations, they can rely on the experience and guidance of their valuation peers, which has been gathered, distilled, and illustrated in this new book.
Although the legal parameters and circumstances of condemnation appraisal assignments may be unique, appraisers are hired to provide opinions of value. The information provided in Real Property Valuation in Condemnation will help them do just that and ensure that they perform these complex assignments with competence, professionalism, and a commitment to ethical conduct.