President's Message, October 2023

Dear Appraisal Institute Colleague:
As a practitioner, I've always known the Appraisal Institute to be a welcoming and inclusive organization. I owe much of my success in this profession to the AI's training, body of knowledge, and ability to attract as members the highest quality and most knowledgeable appraisers and associated real estate professionals. In fact, I first met many of my long-time friends and business associates at meetings and gatherings of the Appraisal Institute and the tangible effects of these connections can be seen directly in the continuing growth and success of my practice here in the Black Hills of South Dakota.
In a broad sense, our logo symbolizes the organization's ability to lift its members up, in both a professional and personal sense. It is the visual identity of the Appraisal Institute and as the organization has been quickly evolving post-pandemic, our marks have necessarily changed to accurately reflect its core purpose amid a new competitive landscape. This year provides strong evidence of that spirit of change at the Appraisal Institute, including a successful launch of AI PAREA, the sincere commitment that we've made to the Appraiser Diversity Initiative, investments in a new website and an updated office space in Chicago, a system-wide organizational restructure, bold plans to modernize our education delivery system and products, a university relations pilot program, and a dynamic new Chief Executive Officer, to name a few.
Yes, the new look and feel of the Appraisal Institute logo and branding announces that change is well underway, and this is really just a beginning. We want to hear from you how our website can be made more functional and where we can make additional process improvements. We are quickly becoming the place that will allow more of our colleagues across the country to feel welcome, to find their professional home, and to better their skills and knowledge as a real estate valuation professional while expanding their valuable network of fellow practitioners. We're proud of these changes and hope they invite more member engagement and sincere conversations for improvements.
Appraisal Institute Launches New Website, Brand Refresh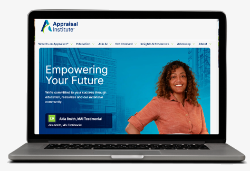 The Appraisal Institute has launched a new website, including a brand refresh that better reflects who we are today and who we aspire to be in the future. For example, the green crossbar of the "A" in the new logo represents a pathway that illustrates AI's ability to provide the support and guidance individuals need for career growth, affiliation and designation. With this important update, we say no matter where you are in your journey, the Appraisal Institute has a place for you.
Our new visual identity has been developed through consultation with the board, chapters and brand development and creative professionals. Here's what you can expect:
A Stronger Identity: Our rebrand is more than just a fresh look; it's a statement about who we are and what we stand for. We're dedicated to shaping the future of the valuation profession.
Enhanced Search Tools and Functionality: Our new website is more accessible and user-friendly and is designed to foster better communication with chapters and AI professionals.
Best-in-Class Education: We've revamped our education platform to make it easier to search, register for and complete.
I applaud the Appraisal Institute volunteers and staff who took the time to provide input, feedback and testing throughout this process. I encourage you to open up the site, take a look around and enjoy the many resources that are available to you.
AI PAREA Receives Certified Residential Path Approval from AQB
The Appraiser Qualifications Board (AQB) has approved the certified residential real property credential (CR) path for the Appraisal Institute Practical Applications of Real Estate Appraisal (AI PAREA) program. This follows the May approval and September public release of the AI PAREA licensed residential (LR) path. I cannot be more proud to see these programs be first-to-market as we continue to improve and expand the education opportunities we offer.
Read the announcement and learn more about AI PAREA.
16 Individuals Honored with Appraisal Institute Awards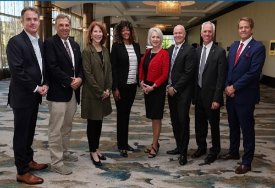 It was my distinct honor to present the annual Appraisal Institute awards to a distinguished list of AI professionals who go above and beyond in their service to our organization and profession. One standout moment was the opportunity to present the inaugural William S. Harps DEI Award to an individual who exemplifies the value of diversity, equity and inclusion within our profession, Akia Smith, MAI.
The Appraisal Institute Education and Relief Foundation Awards:
George L Schmutz Award: Richard L. Parli, MAI
Dr. William Kinnard, Jr. Award: Dawn Molitor-Gennrich, SRA, AI-RRS
James H. Pritchett Award: Theresa M. Nygard, MAI
Y.T. and Louise Lee Lum Award: Dale Cooper, MAI, SRA, AI-GRS, AI-RRS
The Appraisal Journal Awards
Armstrong/Kahn Award
Barry A. Diskin, Ph.D., MAI, AI-GRS
David C. Lennhoff, MAI, SRA, AI-GRS
Richard L. Parli, MAI
Stephen D. Roach, MAI, SRA, AI-GRS
Swango Award
Sandra K. Adomatis, SRA
Dawn Molitor-Gennrich, SRA, AI-RRS
The Appraisal Institute Awards
Joan Barngrover
Jeffrey S. Enright, MAI, SRA, AI-GRS
Misty K Ray, MAI, AI-GRS
Chris Johnson, MAI, SRA, AI-GRS
Larry Wright, MAI, SRA, AI-GRS
Women's Initiative Spotlight Award
Dawn Molitor-Gennrich, SRA, AI-RRS
William S. Harps DEI Award
Outstanding Service Award
Lamar H. Ellis, III, MAI, SRA
J. Scott Robinson Lifetime Achievement Award
Stephanie Coleman, MAI, SRA, AI-GRS, AI-RRS
Whether you've had the opportunity to meet these individuals or not, they have undoubtedly made an impact on our profession. I congratulate each of these award winners and thank them for their commitment to the valuation profession and beyond.
Executive Committee Shares Important Updates with Thought Leaders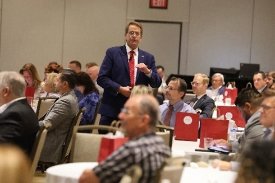 As the 2023 Appraisal Institute President, I have had the privilege of traveling across the country to meet with AI professionals and other thought leaders in the valuation profession. In recent weeks my fellow officers and I have been able to share important updates at the following events:
Land Trust Alliance 2023 Rally
Seattle Chapter Meeting
Houston Chapter Education Symposium
Iowa Commercial Real Estate Expo
Appraisal Institute Chapter Leadership Program
Join Region Meeting
Utah Chapter Fall Symposium
Association of Appraiser Regulatory Officials (AARO) Fall Conference
State of Atlanta Seminar
Each of these meetings provides AI leadership with the opportunity to discuss important issues, highlight the progress our organization has made in the past year, while fostering collaboration among stakeholders to ensure the continued strength of the real estate industry.
Read more about these updates in AI's news release on the AARO Fall Conference.
16 Individuals Honored as Appraisal Institute Volunteers of Distinction
The Appraisal Institute honored 16 individuals as Volunteers of Distinction in the third quarter of 2023 in recognition of their commitment to the real estate valuation profession and to their local communities. These individuals care deeply about their work and help us continue to shape the future of the valuation profession.
Learn more about this quarter's honorees – and submit a nomination for next quarter – on the AI website.
Sincerely,

Craig Steinley, MAI, SRA, AI-GRS, AI-RRS

President