President's Message, August 2023

Dear Appraisal Institute Colleague:
Just ahead of the Q3 Board of Directors meeting in Schaumburg, Illinois, earlier this month, I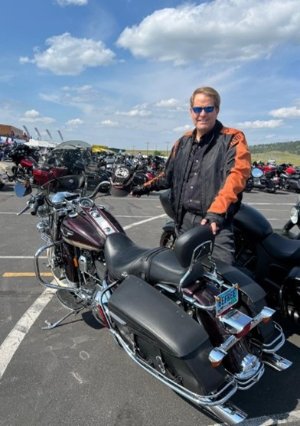 had the opportunity to play a part in the 83rd Annual Sturgis Rally, a 10-day, fun-packed gathering of motorcycle riders in my home state of South Dakota. Bikers from around the country come together to enjoy each other's company, take in some great concerts and to ride along the scenic highways of the Black Hills National Forest.
At this year's Sturgis Rally, one of my favorite roles was to help welcome the nearly half million participants to the event and to our great state. As a proud South Dakotan, I relish the opportunity to bring people together to enjoy the natural beauty in this land of abundance known as the Mount Rushmore State. Biker or not, make plans to join me one of these years and let me welcome you to the Sturgis experience.
I also enjoy playing that role as 2023 president of the Appraisal Institute. In the past several years, we have opened our doors to welcome new individuals to the profession and to our organization. Through the AI PAREA program, Appraiser Diversity Initiative, University Relations Pilot Program and others, we are leading the charge to make AI and the appraisal profession more inclusive and equitable.
In the spirit of welcoming new people, I am excited to share some news about new faces at the Appraisal Institute, along with more important updates about the great work our organization is doing.
Cindy Chance Named CEO of the Appraisal Institute
As you might have heard, I'm excited and proud to share that the Board of Directors has named Cindy Chance the next Chief Executive Officer of the Appraisal Institute, effective Sept. 5. Cindy joins the Appraisal Institute after successfully creating and growing the Urban Land Institute's online education efforts, expanding its Product Councils' depth and breadth and serving as a key member of its leadership team through the pandemic and turbulence in the commercial real estate industry.
Cindy most recently served as executive vice president and member of the Leadership Team of the Urban Land Institute, the world's leading professional association for commercial real estate. Her accomplishments there include:
Growing Product Councils, ULI's flagship experience for member leaders to share best practices and lessons learned,
Building a robust online educational start up to attract, prepare and develop the next generation of real estate professionals and
Leading staff teams while developing programs and partnerships, including with universities, to expand access and opportunity within the industry.
Prior to joining ULI, Cindy advanced through key positions in higher education ranging from classroom teaching to strategic innovation, and leadership roles in continuing studies focused on professional students. She has expertise in ethics having earned a Ph.D. in philosophy from Georgetown University.
I have enjoyed getting to know Cindy these past few weeks and I look forward to working alongside her to continue the Appraisal Institute's great work to improve the organization and profession.
Read more about Cindy's experience in the AI news release announcing her role.
I'd also like to acknowledge and thank Chief Financial Officer Beata Swacha for fulfilling the role of acting CEO during this period of transition. Her leadership has allowed the Appraisal Institute to maintain its course and forge ahead with its many ongoing initiatives. I appreciate her efforts and look forward to her continued leadership as the organization's CFO.
Michael Mignogna Elected 2024 AI Vice President
In other great news on the leadership front, Michael J. Acquaro-Mignogna, MAI, SRA, AI-GRS, was elected 2024 Appraisal Institute vice president by the Board during its Aug. 10-11 meeting in Schaumburg, Illinois.
Mike's one-year term as vice president will begin Jan. 1, when he'll also serve for one year as chair of the Finance Committee. He'll serve as president-elect in 2025, president in 2026 and immediate past president in 2027.
He co-founded Mid-Atlantic Valuation Group in 2006 and is co-owner of the company with Gary E. Heiland II, MAI, AI-GRS.
Read more about Mike's service on the AI website.
University Relations Pilot Program Resources Available
We've had tremendous feedback from last month's message on the university relations pilot program. One question that has come up is – what resources are available for individuals working with a university that is not part of the pilot program? You will find terrific information to help you here: College Corner

Thank you for your work in building our future!
AI Board of Directors Seeks Membership Input on Proposed Regulation Changes
The Appraisal Institute Board of Directors voted during its Aug. 10-11 meeting to direct notice of proposed amendments to Regulation No. 2 regarding Admission to Residential Candidacy and SRA Membership for comment.
The Board also voted to:
Adopt proposed amendments to Bylaws and Regulation No. 4 regarding Recognition for Life Designated Membership and to adopt a Designated Member Policy Manual.
Adopt proposed amendments to Regulation Nos. 2 and 3 regarding the Residential and Residential Review Experience Requirement.
Adopt proposed amendments to Regulation No. 10 regarding Designated Member Continuing Education Cycles.
Amend the Chapter Funding Policy for Candidates for Designation and Practicing Affiliates.
Approve the unification of the Chicago Chapter and the Northern Illinois Chapter.
Adopt the proposed 2024 budget.
Amend policy pertaining to maximum annual income for Designated Members with Practicing Semi-Retired status.
Additionally, the Board elected the following individuals to committees:
Audit Committee- Reginald M. Carter, MAI, SRA, and Dale C. Cooper, MAI, SRA, AI-GRS, AI-RRS (terms ending Dec. 31, 2025).
Compensation Committee- Jason L. Messner, MAI (term ending Dec. 31, 2024).
Professional Liability Insurance Program Committee- Donald S. Boucher Sr., SRA (term ending Dec. 31, 2026).
Strategic Planning Committee Chair- Robert R. Elliott Jr., MAI, SRA (term ending Dec. 31, 2025).
Strategic Planning Committee- Allen W. Gardiner, MAI, SRA (term ending Dec. 31, 2025).
The next Appraisal Institute Board meeting is scheduled for Nov. 9-10 in Rosemont, Illinois.
Update About National USPAP Continuing Education Course
Registration is now open for the Appraisal Institute's 7-hour National USPAP Continuing Education course for offerings beginning in December. This required 7-hour continuing education course, copyrighted by The Appraisal Foundation, focuses on USPAP requirements for ethical behavior and competent performance by appraisers. New case studies and tools are provided to help you learn how to better navigate USPAP in order to solve problems in your daily appraisal practice, and a USPAP Reference Manual is included with the course handbook. The course will help you gain competency in USPAP, and it will help those subject to state licensing or certification and continuing education requirements imposed by professional organizations, client groups, or employers gain competency as well.
State approvals for this course are pending a Licensing Agreement from The Appraisal Foundation. Learn more about this offering.
Latest Face Value Podcast Highlights AI Success Stories
In the latest episode of Face Value, hosts Warren Boizot, SRA, AI-RRS, and Tonia Vailas, MAI, AI-GRS, sit down with Mark Linne, MAI, SRA, AI-GRS, Mark Ratterman, MAI, SRA, and Eric Schneider, MAI, SRA, AI-GRS, to talk about the ways they have achieved success within the Appraisal Institute, how others can get involved and what those processes look like. Specific discussion points include submitting ideas for AI education and books, along with how to get involved in the Leadership Development and Advisory Council conference, commonly known as LDAC.
National Association of Realtors Offers MLS Alternatives During Rappatoni Outage
As you may be aware, there is an ongoing issue with all MLSs on the Rappatoni platform that has lasted longer than a week, keeping appraisers and agents alike from accessing active or off market data. One alternative that we've been made aware of is the National Association of REALTORS® Real Property Resource (RPR), which is a copy of 97% of listings in the country and includes all MLSs that are affected by the Rappatoni platform.
Appraisers who are members of NAR already have access to the RPR platform at www.narrpr.com. Others who wish to request access for a 15-day period should email to ronf@narrpr.com to receive access.
For AI Professionals, and other appraisers, I'd encourage you to utilize the sources of information that are available to you, including assessment data, online broker platforms, etc., and of course, speak with market participants and disclose data sources to your clients. We're likely to experience an increase in turn times in affected markets because the data is not as easy to come by and involves more time and effort, but I have no doubt that appraisers are up to the task!
Other News Around the Appraisal Institute
The Appraisal Institute's latest video features a Q&A with Appraisal Institute Designated Members Nora Derian, MAI, and Jonathan Brill, SRA. Watch the video to hear about their experiences pursuing and receiving their designations and what they would recommend for others interested in getting on that path.
Are you looking for some excellent exposure, and potential new business opportunities, for yourself and your company? Is there an exciting topic that you think other appraisers need to learn about? There are several opportunities you should consider:

I'd invite you to submit your ideas for consideration in Valuation, AI's quarterly magazine; or The Appraisal Journal, our peer-reviewed journal.

Additionally, subject matter experts are encouraged to submit their new topics and ideas to be considered for education programs.

Practicing appraisers have served as authors and contributors to every book published by the Appraisal Institute. Share your knowledge by making your contributions. Learn more about publishing with us.

The Appraiser Diversity Initiative is an important priority for the Appraisal Institute. I'd encourage you to keep updated on our Appraiser Diversity Initiative webpage. If you know an individual who is looking to join the valuation profession, please encourage them to check out the website as well.

We continue to expand our social media activities. Be sure to follow us and share our articles of interest.
Sincerely,
Craig Steinley, MAI, SRA, AI-GRS, AI-RRS
President